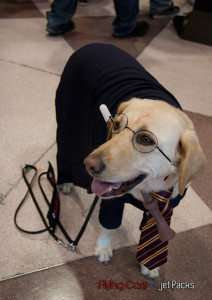 I caught a rumor last weekend that J.K. Rowling was going to be writing another Harry Potter book.  After doing some research I could find nothing that supported Rowling writing or publishing a new Potter novel anytime soon. BUT…
Yesterday word came that J.K. Rowling would be making her screen-writing debut adapting her 2001 work (written under the pseudonym Newt Scamander), Fantastic Beasts and Where to Find Them. Fantastic Beasts and Where to Find Them is a fictional textbook that was used by Harry Potter at Hogwarts.
Warner Brothers intends producing a series of new films based on the fictional textbook that follows the adventures of Newt Scamander.  When Warner Brothers approached Rowling about the idea of new films, Rowling says she felt so protective of the fantastic world she has created she was unable to shake the idea of another writer handling one of her favorite characters. So she asked to take on the task of writing the script herself.
Although it will be set in the worldwide community of witches and wizards where I was so happy for seventeen years, 'Fantastic Beasts and Where to Find Them' is neither a prequel nor a sequel to the Harry Potter series, but an extension of the wizarding world. The laws and customs of the hidden magical society will be familiar to anyone who has read the Harry Potter books or seen the films, but Newt's story will start in New York, seventy years before Harry's gets underway.
A piece of the Harry Potter universe in the U.S! In New York no less! I wonder if they will be bringing production here to shoot? Deadline.com is reporting that,
No timeline or director has been identified yet. If the films follow the Harry Potter process, they'll make use of Warner Bros' Leavesden studios outside London which Warner acquired and revamped after the last Potter film was shot.
Warner Brothers seems to be following Disney's example with Star Wars by creating new series of film of minor characters. Other Hogwarts text books include, Quidditch Through the Ages, and The Tales of Beedle the Bard. Could these other titles be fodder for future movie series if Creatures does well? Is this Warners Brothers answer to years of Star Wars and Marvel movies to come? In the meantime can we make this April Fools joke from a few years ago a reality?