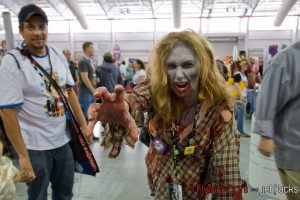 The Walking Dead Escape was first run at Comic-Con in San Diego in 2012 and again in 2013. Now The Walking Dead Escape is coming to New York City at the Intrepid Sea, Air and Space Museum!  The Walking Dead Escape will take place on Saturday, October 13th, which will be during the weekend that New York Comic Con will be underway, and one day before the fourth season premiere of The Walking Dead on AMC (October 13th at 9PM ET/PT).
The course is open Sat., Oct.12 from 6:45 pm – Midnight. Survivors climb, crawl and slide in an effort to avoid confrontation by hordes of Walkers, while achieving the ultimate adventure on The Walking Dead-themed obstacle course. The Walking Dead Escape is not a race and Survivors are not timed, but the end is near and they must move swiftly. If they're lucky, Survivors will reach the decontamination zone where their level of infection – if any – will be determined by a confidential military scan. Walkers will be transformed into the undead by professional makeup teams and released on the course to haunt the living.
To participate go to www.thewalkingdeadescape.com and register.
 This year The Walking Dead Escape is elevated with new props, scenes and full The Walking Dead experiences. Fans can participate in this epic adventure; as a "Survivor" racing through the zombie-infested evacuation zone with familiar scenes and props from the show and comic book series; or as a "Walker" in the undead horde.
Source: AMC/Skybound/Ruckus Sports Press release