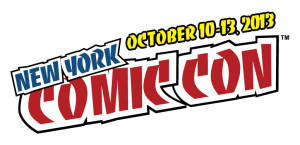 Today in New York City the 7th New York Comic Con begins.  Each year this east coast con's attendance has exploded.  This year it is estimated that 120,000 people will attend the event at the Javits Center.
Some of the exciting things to see at this year's NYCC:
FRIDAY


Marvel's Agents of S.H.I.E.L.D.
Date: Saturday, October 12  – 5:00 pm – 6:15 pm
Location: Main Stage 1-D
SATURDAY


Star Wars Rebels: The Might of the Empire
Date: Saturday, October 12 – 2:45 pm – 3:45 pm
Location: Empire Stage 1-E Presented By: Arizona Beverage Co.
AMC's The Walking Dead
Date: Saturday, October 12  – 6:30 pm – 7:30 pm
Location: Main Stage 1-D
SUNDAY
Gillian Anderson & David Duchovny Talk X-Files
Date: Sunday, October 13  – 4:00 pm – 5:00 pm
Location: Main Stage 1-D